Mary Cheyne [pronounced 'Sheen'], MBA, is an award-winning communicator and the Founder of Magnetic Podium, an organization that helps people find their unique voice and communicate with impact.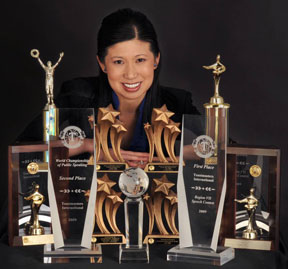 Mary began her career in software development and later discovered she had a passion for training and motivational speaking. During her 15+ years of experience training and speaking to over 15,000 people from more than 25 cities and multiple countries, Mary has learned one important thing:
To communicate and persuade effectively,
the first person you need to
convince is yourself.
Guided by this principle, Mary has devised tools and techniques to help you communicate and influence with impact.
Mary used these effective communication strategies to win the 2009 World Championship of Public Speaking 1st Runner-up Title. In this international contest Mary beat out more than 25,000 contestants from 14 countries.
Mary's communications accolades have been featured in The Boston Globe. She has appeared on TV Shows in New York and Massachusetts.
Click here to see
Mary Cheyne in action!
.
Mary's Philosophy
Mary believes that being a successful, confident speaker means being comfortable with yourself and being clear about what you stand for.
Mary speaks from her own experience. When she first started public speaking, she thought she had to be formal and stiff in order to portray a professional image. As a result, every time she got on the platform to speak, she wore different "masks" to hide who she really was so that her audience would not "judge" her.
It was from discovering the breakthrough processes that she went through, which she now teaches to others, that enabled her to experience the mental shifts of allowing her own true personality to shine through, instead of being afraid of what the audience will think. Breakthroughs can happen in an instant, if you know the processes and are guided correctly.
Mary embodies her philosophy in this statement:
"It is through your awareness of who you really are can you be 'real.'
Only then can you connect with the audience.
This is when you will find true freedom as a speaker."